WHAT
The Bioethics Advisory Group (Beta Group) is a multi-disciplinary group of individuals who are motivated and skilled in applying ethical principles to Early Access Program (EAP) design.
The Beta Group is comprised of eminent bioethicists, practising healthcare professionals and patient group representatives, to give you the right lens for assessing the ethics of your access program design.
The members are carefully selected, working together to address questions or challenges that have been raised by a sponsor company. Balancing legitimate practical concerns, the commercial constraints that the Company must work within, and overall corporate strategy, the group teases out the ethical implications and considerations that are relevant to the question(s) being raised.
Our ambition is to ensure all Early Access Programs are ethical by design.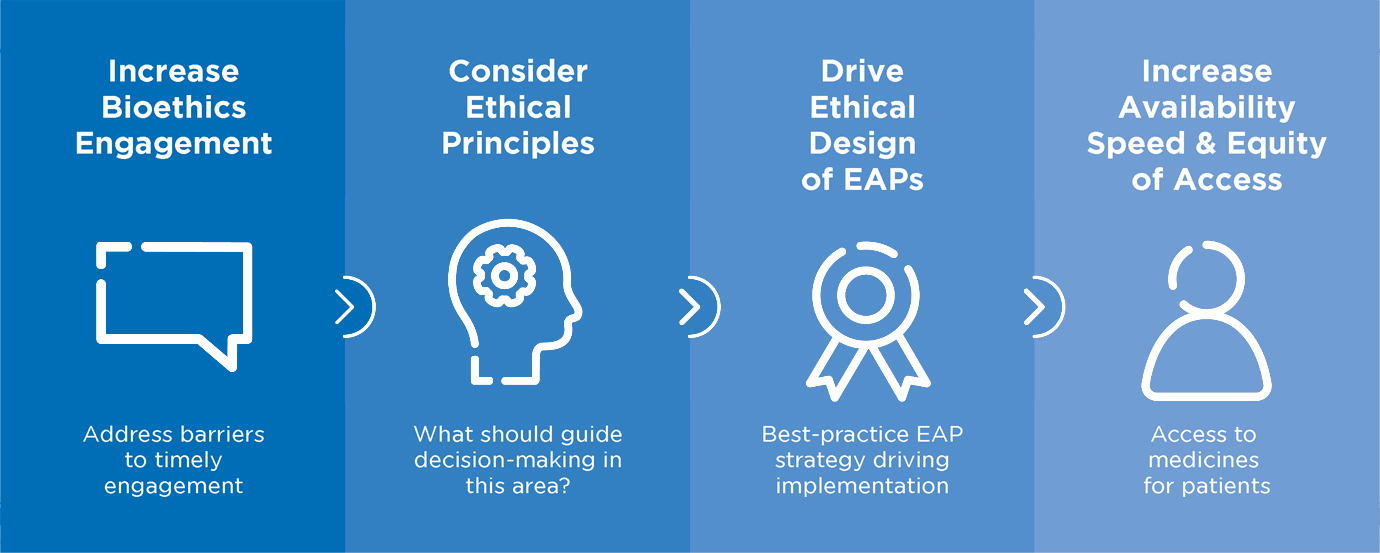 The Beta Group was convened by Clinigen with the advice of, and in collaboration with, Alan Cribb, Professor of Bioethics and Education at Kings College London. The Beta Group was provided with start-up funding by Clinigen and continues to operate with its administrative support*. Outputs from the Beta Group are wholly independent of and not steered or influenced by Clinigen.
*Administrative support includes provision of a part-time secretariat which helps with communication about Beta Group, assessing incoming requests for relevance and applicability for Beta Group engagement, project management of the process of engagement, invoicing, reporting, and quality control.
WHY
If you are planning an Early Access Program to address a serious unmet medical need, there will likely be ethical challenges at play.
The three core drivers of Pharma companies to engage with Beta Group are:
With one opportunity to get it right, it's critical that you have considered anything that could impact on your professional reputation.
Gather the right inputs early on and check the defensibility of your approach
The whole healthcare ecosystem, including Patient Groups and patients are more engaged than ever before and have a strong understanding of the options available when it comes to new medicines.
Be ready to engage with external stakeholders, including the patient community who can support and inform your decision-making related to Early Access
A lack of internal alignment or a sea of voices offering conflicting opinions can cause decision paralysis.
Gather feedback from independent and external experts
WHEN
Most sponsor companies opt to engage with the Beta Group at the initial design and planning stages of Early Access. The benefits of timely engagement include:
Inform Early Access policy development
Identify and mitigate against potential issues that could arise
Avoid the pitfalls of complex arbitration at a later date
Be confident that best efforts have been made to protect your reputation as a patient-focussed company.
WHO
Søren Holm, Professor of Bioethics, University of Manchester, United Kingdom
Professor Holm is the Chair of the Beta Group. As well as being Professor of Bioethics at Manchester he is also Professor II of Medical Ethics, University of Oslo. He holds degrees in Medicine, and in Philosophy and Religious Studies from the University of Copenhagen, a Masters degree in Health Care Ethics and Law from the University of Manchester and a Diploma in Health Economics from the Danish Hospital Institute. He also holds a PhD and a higher Danish doctorate from the University of Copenhagen.
He has been the President of the European Society for the Philosophy of Medicine and Health Care, and President of the International Association of Bioethics. He is a former member of the Danish Council of Ethics and of the Nuffield Council on Bioethics.
He was the Editor of the Journal of Medical Ethics between 2004-2011 and since 2011 is the Editor of the Journal of Clinical Ethics.
Mark Sheehan, Ethox Centre, University of Oxford
Mark Sheehan is Oxford Biomedical Research Centre (BRC) Ethics Fellow at the Ethox Centre and a Research Fellow at the Uehiro Centre for Practical Ethics in the Faculty of Philosophy. He received his PhD in Philosophy from The City University of New York, where his PhD thesis was on the nature of moral judgements. Prior to his PhD, he received an MA (Hons) and a BA (Hons)/BSc from the University of Melbourne. Prior to coming to Oxford he was a lecturer in the Centre for Professional Ethics at Keele University, Ethics Fellow at the Mt. Sinai Medical School, New York and Adjunct Lecturer in the Philosophy Department at The City College of New York.
He is a National Research Ethics Advisor for the National Research Ethics Service, a member of NICE's Highly Specialised Technology Evaluation Committee, co-leader of the Ethical Analysis of Key Concepts GECiP sub-domain in the context of the 100K Genome Project and was recently a member of the Nuffield Council on Bioethics Working Group on research in children. He is also a member of the Thames Valley Priorities Committee in the NHS, an Associate Editor of the Journal of Medical Ethics and finally a Senior Research Fellow in Philosophy at St. Benet's Hall, University of Oxford.
As BRC Ethics Fellow, Mark is involved in Research Ethics and Governance as well as Patient and Public Involvement (PPI) across the Oxford NIHR BRC themes. This involvement includes discussions with researchers about research ethics issues in their work, collaborating on research proposals with ethical components and conducting research on issues in research ethics, ethics generally and PPI that engage with the research themes within the BRC.
Mark teaches a range of sessions on research ethics across the University of Oxford, aimed primarily at practitioners and researchers. He also teaches Medical Ethics and Law to the Graduate Entry Medical students at the Medical School.
He has published in a broad range of bioethics and medical journals such as the Journal of Applied Philosophy, the Journal of Medical Ethics, the Cambridge Quarterly on Healthcare Ethics, the British Medical Journal and the American Journal of Bioethics. With colleagues from the Centre for Professional Ethics at Keele University, he wrote an EU-funded textbook on research ethics.
Joe Brierley, Paediatric & Neonatal Intensive Care Consultant, GOSH
Dr Brierley has been a Consultant in Paediatric and Neonatal Intensive Care at Great Ormond Street Hospital (GOSH) since 2004. He is the GOSH Clinical Lead for organ donation, works as a Consultant with the Children's Acute Transport Service (CATS) and is Chair of the Local Research Ethics Committee and Vice-Chair of the GOSH Clinical Ethics Committee.
Dr Brierley was instrumental in the development of a framework for use at GOSH to evaluate requests for compassionate use access to treatment, and has been involved in its ongoing application and review.
Alongside this, Dr Brierley is an Honorary Senior Lecturer at the University College London (UCL) Great Ormond Street Institute of Child Health.
Donna Graham, Medical Onoclogist, The Christie Hospital, Manchester
Dr Donna Graham is a Medical Oncology consultant with the Experimental Cancer Medicine Team in The Christie Hospital in Manchester and Honorary Clinical Lecturer at the University of Manchester. She obtained her medical degree from Queen's University in Belfast, completed Medical Oncology training in Ireland and subsequently undertook a fellowship with the Drug Development team in the Princess Margaret Cancer Centre in Toronto, Canada, prior to taking up her consultant post. She has a decade of experience in cancer clinical trials with a focus on early phase research. She has been a co-investigator on >100 early phase clinical trials and is currently PI and UK CI on a range of Phase I trials. Dr Graham has served on the Research Ethics Committee for the University of Toronto and is a member of the Drugs and Therapeutics Committee at The Christie Hospital.
Dr Graham holds a PhD in Precision Oncology from Queen's University Belfast and has been a member of multiple national committees promoting clinical trial excellence in the UK. She is also a lecturer and supervisor on the Experimental Medicine (Cancer Stream) MRes and is the Manchester Clinical Lead on the Experimental Cancer Medicine Centres (ECMC) North Digital Committee in the UK, investigating and promoting use of technology in Early Phase Oncology Trials.
Victoria Metaxa, Critical Care and Major Trauma Consultant, Kings College Hospital, London
Victoria Metaxa is a Critical Care and Major Trauma Consultant, at King's College Hospital in London. She is the medical lead for the Critical Care Outreach Team of the Trust, as well as the end-of-life ICU lead.
She has a PhD in neurosciences and a Postgraduate Diploma in Clinical Trials. She is currently undertaking an MSc in Medical Ethics and Palliative Care at Keele University. Victoria has participated in and lead a number of international and national studies, predominantly around end-of-life in critical care. She is a member of the European Society of Intensive Care (ESICM) Ethics group, as well as of the newly founded ESICM Diversity Task Force. She is participating in several clinical ethics committees.
Victoria has set up and is leading on the haemato-oncology/ critical care provision at King's College Hospital. Through this initiative, the collaboration and daily interactions of the two teams has significantly improved. She is a founding member of the EuroCAR-T Force, a multi-national group of Critical Care consultants aiming to accelerate clinical experience, promote research and define a working framework in the emerging field of immune cell therapy.
Bettina Ryll, Founder, Melanoma Patients Network Europe
Dr. Ryll holds a medical degree from the Free University of Berlin, Germany, and a PhD in Biomedical Sciences from University College London, UK.
After losing her husband to Melanoma, she founded the Melanoma Patient Network Europe and developed a special interest in patient-centric clinical research, innovative trial designs and novel drug development concepts as well as pragmatic solutions on how to ensure access to innovative treatments in situations of both high unmet need as well as high uncertainty.
Between 2015 and 2018, Dr. Ryll chaired the ESMO-PAWG, the first time this position was held by a non-oncologist and was instrumental behind the development of the advocacy track at annual ESMO conferences and joined the Horizon Europe Mission Board for Cancer in 2019.
Dr. Ryll is involved in numerous initiatives promoting evidence-based advocacy. She is fascinated by the enormous potential and capacity of patient networks to both educate and support patients as well as to capture data at the primary data source, the patients themselves, to generate evidence at a granularity level non-accessible to outsiders.
Lindsay Birrell (née Weaver), Co-founder & CEO, Realise Advocacy
With 10 years' experience of leading charities as their CEO, Lindsay has built a wealth of expertise in charity development, sustainability planning, governance and strategic business planning; helping patient groups to upskill and professionalise in order to achieve their aims. As former CEO of Metabolic Support UK, a former member of NHS England's Metabolic Clinical Reference Group, and a trustee at Medics 4 Rare Diseases, Lindsay has built up significant knowledge of the access environment and is an advocate for the benefits of engaging patients in the drug development process, including setting research priorities, supporting design of preclinical and clinical trials as well as early access programmes and Health Technology Assessment processes.
As Co-founder and CEO of Realise Advocacy, Lindsay currently works with patient groups to upskill and get better prepared for access.
Jane Lyons, CEO, Cancer 52
Jane Lyons is CEO of Cancer52, an alliance of more than 90 largely small patient support group charities working in the field of rare and less common cancer. Jane leads Cancer52 in its relationships with influencers and policy makers and sits on many NHSE task and finish groups within the Cancer Policy Governance Programme, including the National Cancer Board.
Jane has worked for Cancer52 for the past five years and before that was CEO of the women's gynaecological cancer charity The Eve Appeal. She previously worked in the communications field and has been a director of top ten consultancies, run her own PR agency, and worked at a senior level in house.
Affiliations

---
CONTACT
If you would like to learn more or discuss engaging the Beta Group on a topic pertinent to your Early Access planning, please contact patientadvocacy@clinigengroup.com.